Valentine's Day- celebrated it with Boat24.co.nz
Valentine's Day – celebrated it with Boat24.co.nz – Valentine's Day -the day of love and affection, has once again come and gone. And for those who celebrated it with Boat24.co.nz, it was a day to remember. Boat24.co.nz, a renowned boat sale company, made sure that their customers had a memorable experience on this special day.
The company offered special packages for couples looking to spend some quality time together. The packages included boat rental, romantic dinners on board, and an opportunity to admire the stunning sunset together. This year, the company also included a special surprise for the couples – a guided tour of the nearby island. The tour was filled with breathtaking views and exciting activities, making it a perfect way to spend the day together.
The couples were welcomed on board with rose petals and a bottle of champagne, setting the mood for a romantic evening. The boat was equipped with all the necessary amenities, such as comfortable seating, a sound system, and a fully-stocked bar. The couples were able to enjoy their meal while admiring the breathtaking scenery, making it a truly unforgettable experience.
As the sun set, the boat sailed into the sunset, providing a breathtaking view of the sky turning orange, pink, and purple. The couples enjoyed their evening, sipping champagne and dancing to the music. It was a truly romantic evening that will stay with them forever.
The company received a lot of positive feedback from the couples who participated in the special packages. They appreciated the attention to detail and the personalized approach was taken by Boat24.co.nz. The customers felt that their day was truly special and that the company went above and beyond to make their day unforgettable.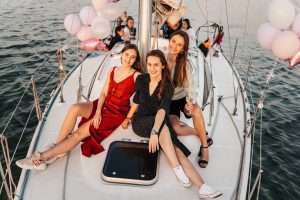 boat travel is a journey of both time and love. It's a journey that can evoke memories of the past, but it's also a journey into the present and the future. Whether it's a trip with friends, a romantic getaway, or a solo journey, the sea has a way of reminding us that life is a journey, and that we should make the most of every moment.
Boat24.co.nz made sure that their customers had a memorable Valentine's Day experience. The special packages, romantic dinners, and guided tour made it a day to remember. The company received positive feedback from its customers, who appreciated the attention to detail and personalized approach taken by the company. If you're looking to make your next Valentine's Day special, consider Boat24.co.nz a company that will go above and beyond to make your day unforgettable.
N.B ( All photos Collected from pexels.com)
New and used boats for sale in europe – free boat advertising.